Whole30 Week 1
I have been feeling crappy lately and I couldn't take it anymore. I had no energy, I was always wanting a nap, stomach was upset, craved sugar like no man business, headaches everyday, and so much more. I had started allowing sweets and gluten slowly back into my diet from my paleo eating that I normally eat. I knew I need to stop that and after hearing about whole30 and actually looking into what it really is I decided right then that I am doing that.
Whole30 is a thirty day program where you detox your body that could be having a negative impact on your body. You remove dairy, added sugar, alcohol, legumes, gluten, grains, carrageenan, sulfites, and msg for the month. This program also supports to help you change your relationship with food and the power it has over you. I am totally controlled by sugar. I love baking and cooking and I knew this was a perfect time to do this 30 day restart. Fall baking is my jam and if I can control myself with pumpkin spice and everything that goes along with that then I can overcome this. You also are encouraged to measure and weigh yourself before you start and are not recommended to weigh or measure till day 31. Don't let the scale define you!
I have to admit I didn't read the whole30book, or the food freedom forever book she wrote but I got the jiff of it by doing online research on forums and Pinterest. I have those two books on reserve at the library, let me tell you there is a wait line for those books! I started off pinning food pinterest for each meal so it made it easy to find and make a meal plan. You have to prepare everything there is no short cuts on this program. So I you work away from your home you will probably end up making a few meals ahead of time to grab on the quickly. But I have the advantage of making my food each meal. I did end up cooking a few sweet potatoes and butternut squash to have cooked up already in the fridge. Also washing and cutting up veggies ahead of time makes life easier too.
After my meal plan was made I made it a point to go grocery shopping by myself so I can read the labels. Seriously after you beginning really looking at the ingredient list your mouth will drop. I would say the hardest part of this is finding foods that don't have added sugar. You will be amazed at how much stuff they add sugar too. For instance- regular table salt has sugar added to it! Really? I don't use that salt but that just makes you look at your spices even more to make sure your stuff doesn't have the sulfites and sugar added to it. I ended up going to Whole Foods to get bacon because I heard they carry the only 2 Bacon that dont add sugar in there bacon so I knew I needed that! I also went to Aldi, Costco, and trader joes. I really stocked up on stuff, so I didn't need to go to all of those stores the following week.
I ended up coming down with a cold or sinus things the first 3 days and I'm not sure if that was my body going through withdrawals or it just happened to come on the first few days of starting whole30. I had to do a few apologies the first two days because I had no self control on my words and actions, and I think may family feared being around me. But by day 3 and 4 I was so much better and I felt like myself! I was even beginning to tolerate drinking my coffee black because you can't add my normal almond milk to my coffee. It made me cut down on the amount of cups of coffee I was drinking each day for sure. I had a few small headaches but that went away quickly. I think it helped the I ate slightly better before starting this so I didn't have the same amount of side effects as others on this program. They have a calendar of symptoms you will experience through these 30 days.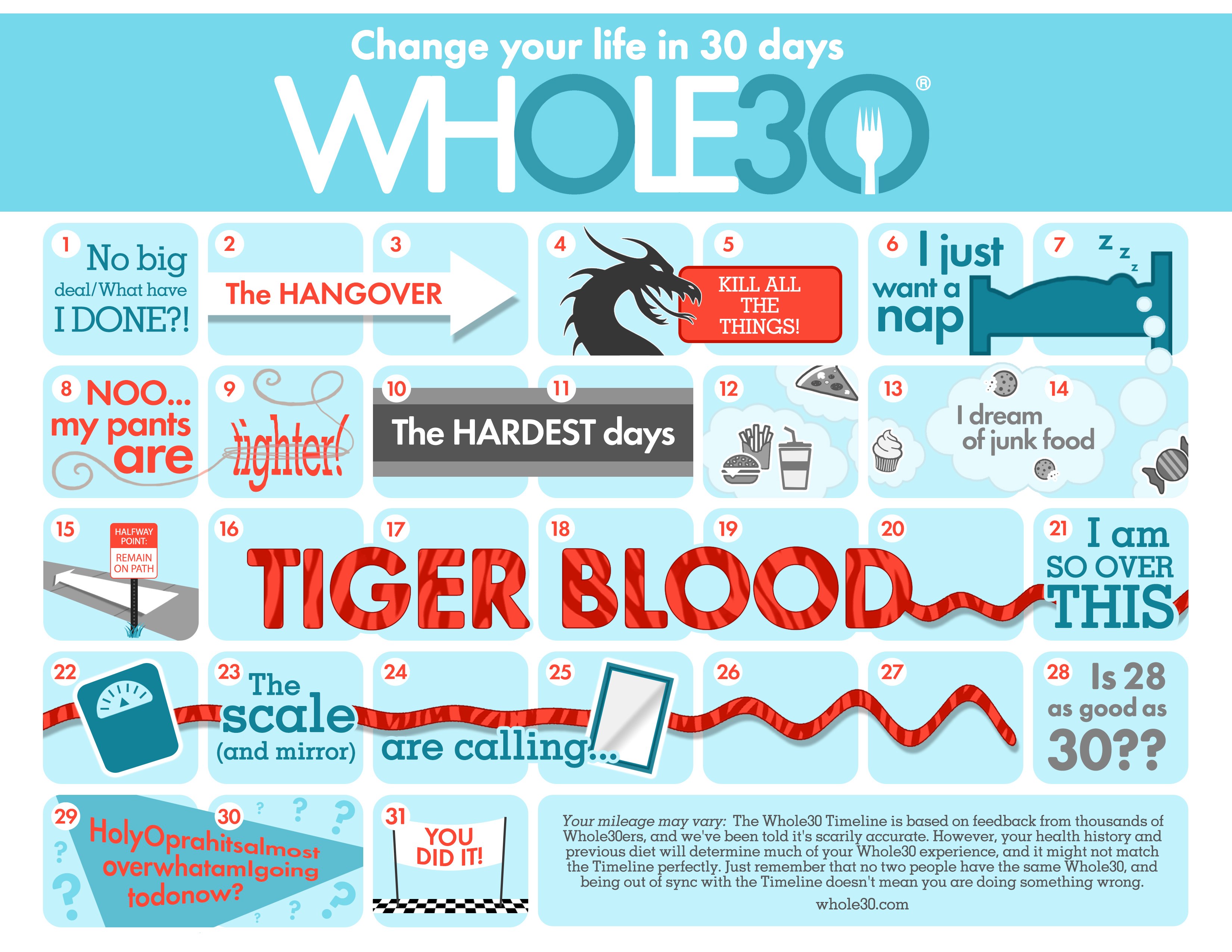 Here is what I ate for week one
Wed.
Breakfast-banana with almond butter, eggs scrambled with mushroom and spinach, cup coffee
Lunch- Avocado tuna salad- its a bowl with 1/2 avocado diced, can of tuna, splash of white vinegar, celery, red pepper, salt and pepper
Dinner- Taco salad Bowl- ground hamburger with homemade taco seasoning, lettuce, peppers, black olives, tomatoes
snacks- dried mango slices, snap peas and guacamole
Thurs
Breakfast- Omelet with bacon, mushrooms, asparagus, and eggs, and banana
Lunch- half sweet potatoes, grilled asparagus, and tilapia that is cooked in avocado oil and topped with garlic, salt, pepper, lime juice, cilantro
Dinner- Lemon garlic Salmon grilled ( I switched my lunch on my menu and messed up leaving me with fish twice that day.. opps)
Snacks- homemade kale chips, blueberries, hard boil egg
Friday
Breakfast- muffin cups filled with prosciutto on the bottom and topped with a egg, peppers, mushroom and spinach, and blueberries on the side
Lunch- left over salmon, hash made up of cubed butternut squash, mushrooms, kale
Dinner- chicken shawarma- so good something I have never made. It's homemade fries in the oven, topped with a marinated chicken and homemade salsa of tomatoes and cucumber and a mayo lemon sauce.
Snacks- apple and almond butter, chia pudding made with coconut milk and chia seeds- and topped with blueberries
Saturday
breakfast- poached egg on top of homemade hash browns and topped with guacamole
Lunch- Tilapia, with roasted veggies- broccoli, carrots
Dinner- My family ate out a chipotle- I could because certain meat and items are compliant on this program but I don't really enjoy chipotle anymore.
So I throw a chicken thigh in the instant pot and sweet potato and ate that
Snack- kale chips, apple and almond butter
Sunday-
Breakfast- Bacon and eggs, side of fried up sweet potatoes and peppers and white potato
Lunch- Roasted veggies, chicken
Dinner- Italian meatballs, homemade marina sauce, and side of Brussel sprouts
Snacks- chomp beef stick, blueberries
Monday-
Breakfast- veggie hash- Brussel sprouts, sweet potatoes, peppers and 2 eggs
Lunch- 1/2 Sweet potato, Trader joes brat(that I didn't like it) and sauced Brussel sprouts
Dinner- Beef stew and side salad
Snacks- 1/2 rx bar, 1/2 apple, butternut squash
They say you should not be hungry, so if you are eat more. But I would say by Friday I was full 3/4 of the way through my meal. It's crazy because I'm not snacking my way through the day. I love to graze throughout the day which was terrible for me. I am staying fuller longer with the foods I am eating. And no joke yesterday I was hungry and I just craved veggies. I was like really? is this what I'm really hungry for?
I love it.
I am also doing a workout plan by fit mommy she is a youtuber. So everyday I do a workout that is either 10-23 min long working on certain sections of the body throughout the week. We dont have our gym membership right now and I am not been a fan of working out at home before but I need to do something and this works for me.
Overall I would say it has gone well this week and I'm excited for week 2. I am not going to lie I'm nervous about eating outside my house right now. I like being able to control what is in my food and I dont trust what people say is in there food because they are usually clueless. I also have a wedding next weekend and it's a buffet meal. I am making kates food for that event, maybe is should make mine too. I dont want it to be socially awkward. There has to be a balance. Maybe next week I will be better about photos of meals. I like to see what others are eating and the brands they buy.
Here is my pre whole30 photo. I struggled to find one because I dont take much full body pictures of myself. I am trying on clothes in the dressing room and I wanted to see if I liked these pants, and my hand is up so I can see my behind! LOL and just so you know I didn't get any of these items.